The holiday season is here, complete with its telltale signs, decorations, and festivities. The gorgeous smells of pine, ginger, and cinnamon waft through Los Angeles neighborhoods, each street aglow with colorful lights. Dreidels, advent calendars, and luxurious chocolates of every kind are suddenly appearing on the shelves of your favorite market. No doubt about it — it's time to deck the halls! This year, we are particularly inspired by the concept of "less is more", and thinking about sustainable practices in decorating. We've scoured the great expanses of the web for the best minimalist and environmentally friendly adornments to be found. Here are some ideas we think you'll love!
PLAYFUL AND FUN,
this geometric dowel "tree" is sustainably made and has a fresh and modern look. An easy DIY project – here's Martha Stewart showing how it's done – you can make this a family activity by building it with your loved ones and creating lasting memories together. If you are short on time or don't possess a drill you can get a ready-to-assemble dowel tree on Etsy.
A FEW PINE BRANCHES
and a couple of clear jars (is it wrong to assume that most of us in LA have attempted to brew Kombucha at one point of our lives? That Kombucha brewing jar would be perfect!) and you have a joyously festive evergreen bouquet that resonates with tradition and makes use of the discarded branches at your local tree market. Decorate with small, bright baubles or try making these charming Mid-Century paper lantern ornaments.
A SILHOUETTE
defines the graceful design of this Christmas tree design, drawn with a chalk. There is a fleeting beauty to this tree idea – appearing, as though by magic, on your wall in December, it disappears without a trace after the holiday season.
A POTTED MINI TREE
is a great sustainable Christmas tree option  –  you can decorate your charming sapling year after year at holiday season until it needs to be permanently planted outdoors.
ETHERIAL WINTER
vibes radiate from this composition of shapely branches, painted white and decorated with clear glass and stars. Get the "White Christmas" look by picking up a few tree-limbs on your morning hike, and stopping by your local thrift store for a couple of recycled baubles.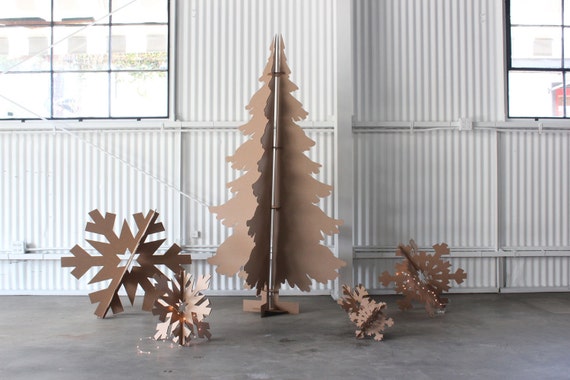 A CARDBOARD TREE
is there a more perfect canvas for ornamentation by painting than this recycled cardboard tree made in California? No, there is not. Purchase on Etsy  or make your own with this simple template.
A HANNUKAH WREATH
We love the design of this Star of David wreath made with local flora. Just add a string of LED's for a sparkly look worthy of the Festival of Lights!
MAKE A BEAUTIFUL MENORAH
with this tutorial from Martha Stewart – all you need is a 16 inches long branch, a drill and a bit of craft paint.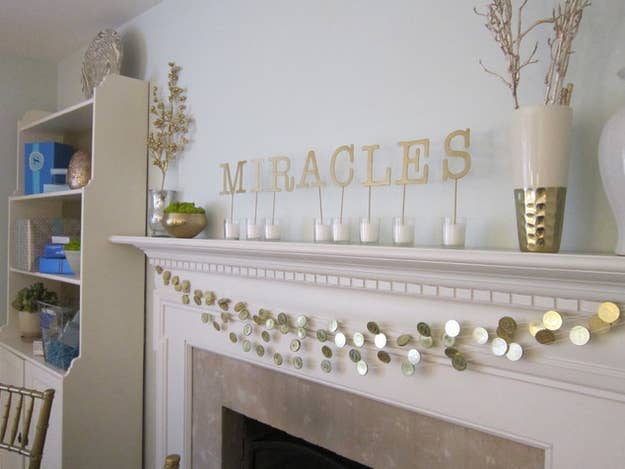 A GARLAND OF GELT
Decorate your mantelpiece with a garland made of chocolate coins. Sustainable, because you and your family can (and should) eat them by the time the holiday is over.
DRAW THE LIGHTS
Chalkboard Menorah Sign allows you to celebrate each night of Hanukkah by drawing a flame on each candle – so fun and safe for the young ones in the family. Found over at Peace.Love. Bright and very inspiring!
GO MID-CENTURY MODERN
by tying  a few hula-hoops together with some string and ribbon to make a Christmas chandelier/tree, as inspired by this classic 1964 design originally created by Lawrence "Bud" Stoecker and recently recreated by his grandson, Matthew Bliss. Afterwards, stop by the iconic Stahl House (find more info about their tours here) and enjoy taking in the sparkling and festive panorama of lights stretching all the way to the horizon.